ATTOM DATA SOLUTIONS ACQUIRES GEODATA PLUS
We're excited to announce GeoData Plus is now part of ATTOM Data Solutions, the nation's premier property database, providing a one-stop data shop. Read the full Press Release. Learn more about ATTOM Data Solutions.
GeoData Plus and Appraisers from Across the US Will Gather at Valuation Expo 2019
Posted on 08/19/2019

by GeoData Plus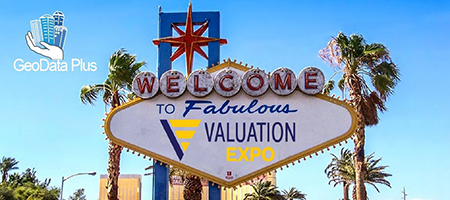 The Fall Valuation Expo is right around the corner, and you won't want to miss this premier event for the real estate appraisal industry. This year, Valuation Expo will be held September 30 through October 2 at the Flamingo Hotel in Vegas.
Join Silver Sponsor GeoData Plus at this important three-day event where you'll have unlimited opportunities to network, learn, get equipped for success, and have fun. You can register for the event here.
Vendors & Lenders Live
Monday September 30, Valuation Expo kicks off with Vendors & Lenders Live. Are you looking to learn more about what GeoData Plus does and how it can help your appraisal business? Join Vendors & Lenders Live at 10:30 am where Robert Whiddon, vice president of GeoData Plus, will be answering that very question.
Appraisal Technology CE Session
Appraisal Technology will be on October 1 from 1:30 - 5:00 pm. You don't want to miss this session, moderated by Robert Whiddon, with a panel of subject matter experts who will tackle emerging technologies related to the appraisal business and identify practical applications.
Stop by Our Booth
Stop by Booth 64 to check out the new features recently added to the GeoData Plus platform and meet the team.
We can show you where MLS content has been added to our property reports along with all the other data that we aggregate. This is a great new feature that provides a seamless and integrated experience to finding information about a piece of real property. Plus, we integrate with all the major appraisal form vendors so you can cut out data entry and auto-populate your forms in a UAD manner.
Of course, you don't have to wait for Valuation Expo to learn about GeoData Plus. You can try it with a 30-day money-back guarantee. Or, schedule a demonstration at your convenience.
Back to Resources