GeoData Plus Adds Nationwide MLS Feed
Posted on 12/14/2018

by GeoData Plus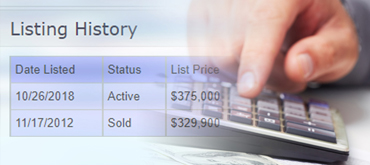 Nationwide MLS Feed on GeoData Plus
GeoData Plus added direct nationwide MLS feed to the property reports. In addition to providing public record property data on all real estate in the US (via our nationwide expansion), GeoData Plus now has over 90% of the MLS data available in the United States.

GeoData Plus teamed up with Xome to provide even more property data in order to enhance the sales comparables search feature and give customers one of the most comprehensive property data tools on the market. Xome is an online company that helps buyers, sellers, and agents with property listings, sales, and purchases.
How Have Property Reports on GeoData Plus Changed?
GeoData Plus already has the following property data: owner(s) with contact information, square footage, room count, zoning, sales / mortgage history, pre-foreclosures / auctions (past & present), and sales comparables. In addition to all of that, we now have the MLS listing history on the property.
Why Is Providing MLS Listing History So Important?
Typically in order to access MLS data, a real estate practitioner has to apply and become a member of the MLS. However, with the new addition of MLS listings to our property data searches, any GeoData Plus customer has access to this feature, regardless of whether you are currently a member of that MLS or not.
During the property research and valuation process, real estate professionals often refer to public record(s) and MLS as two completely separate data sources. For instance, an appraiser or Realtor (that isn't using GeoData Plus) will access the MLS to do a valuation on a property, pull sales comparables, and then verify the data on the public record(s) through entirely separate searches.
Many MLS systems have public record data sources within their system, but they are not seemlessly integrated with the listings provided by the MLS. This forces the real estate practitioner to perform entirely new searches every time, for every property.
Conversely, if a real estate professional commences a search for property data in a public record system, there is little-to-no direct integration with MLS listings and the information the MLS provides.
Gathering enough valuable information from both sources requires quite a bit of time and effort.
What Is GeoData Plus Doing Differently with MLS Listing Data?
In most cases, real estate professionals start their search for sales comparables in the MLS listings, identify the most relevant comps, and then cross reference those comps against public record(s). This approach is generally effective; however, if properties are sold outside of the MLS, the chances of missing an essential sales comparable is very high.
In contrast, GeoData Plus collects every recorded sale and has it cross referenced against the MLS data. When one searches for comps in GeoData Plus, they see both MLS and non-MLS sales.
With the new MLS feature, when GeoData Plus users perform a comp search, they see every sale, and each sale indicates the following information:
- Whether or not sale occurred through the MLS
- The date the property was listed
- Days on market
- The sale price with the percentage above or below the initial asking price
Important Note Regarding the MLS Feed: GeoData Plus' new MLS feed is available to all states currently, save New York State. New York will be added in the next month or two. An announcement will be made when this is complete.
GeoData Plus continues its commitment to be an all-in-one provider of vital real estate information. The MLS feature further enhances the online service as a game-changing, robust property data source that aggregates reliable, verified public record data, and MLS data into one easy-to-use system.
Back to Hands on the Market