ATTOM DATA SOLUTIONS ACQUIRES GEODATA PLUS
We're excited to announce GeoData Plus is now part of ATTOM Data Solutions, the nation's premier property database, providing a one-stop data shop. Read the full Press Release. Learn more about ATTOM Data Solutions.
Pricing it Right with the Comparative Market Analysis
Posted on 01/20/2021

by Erik Wind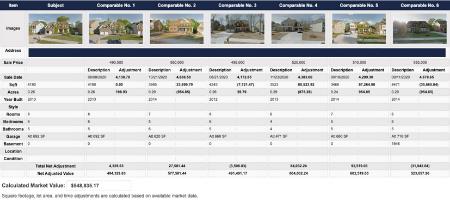 When it comes to finding the best comparables for your property valuation, there are no shortage of tools made available through GeoData Plus. But once you've identified your comps, you still need to compare them against your subject property and come up with an accurate opinion of the value. We've helped you with this step too, incorporating and enhancing a feature that will aid you in determining and supporting your value.
Reintroducing the Comparative Market Analysis (CMA)
Whether you're listing a property, making a purchase decision, or appraising, getting the right price from the start is the most important step there is. Many of us have the market knowledge and the analytical know-how to look at a list of sales and decide which sales make the best comps. But where do you go from there? GeoData Plus helps answer that question in many ways, but one of the most popular tools we have in our platform is our Market Analysis. With the click of a button, the Market Analysis will take your selected comparables, line them up against the subject, and perform automated adjustments to produce a value.
Our users love it, as we've seen how thousands of real estate professionals are leveraging the Market Analysis on a daily basis, but we saw the potential for it to do more while making it available to a larger portion of our client base and look even better in the process. So, we took our well-loved tool, improved it, and made it available in every state.
What Improvements Have Been Made to the Market Analysis?
First and foremost, the adjustments being made to the comparables are now completely market-driven. As soon as you select your comparables and press the Market Analysis button, GeoData Plus is making time adjustments and calculating the price per square foot based on the market you're in. Most CMA tools use arbitrary adjustment values or rely on the user to provide adjustments, which often turn out to be hit or miss, or at least not derived from market data.
For those of you who have been using the Market Analysis for some time, you'll find the new look to be an overall improvement. This is the kind of report you can hand to any client with confidence in knowing that you look like a professional that has done their due diligence.
How Exactly Does the Market Analysis Work?
The Market Analysis is really easy to use. It starts with selecting the best-sold comps for your subject property in the comparable search screen. Be sure to pick the best comps that close to the property, have sold recently, and are most similar to the subject property. Here's a video that goes into more detail on our comparable search tool:
Identify the best sales in your search, choose up to 6, and press the Market Analysis button. We'll take over from there.
How Many Sales Should I Pick?
Usually, 3-5 comps is enough to perform an accurate market analysis. Be sure to choose sales that are as similar to the subject as possible. It's also good practice to pick some sales that are slightly smaller, and some that are slightly larger in order to get the best cross-section. The Market Analysis allows you to choose up to 6 comparables. It would be very unusual to need more than 6 comparables in order to perform an accurate market analysis.
How Accurate is the Market Analysis?
There's a term you may be familiar with called "garbage in, garbage out." That applies most aptly here. The Market Analysis is a completely data-driven tool that works best when the quality of data is good. This means that if you choose your comps poorly (choosing sales that are very far from the subject, much bigger or smaller, not sold recently, etc.) then the calculated value will not reflect the market. Also, the more active a market, the better the adjustments typically are.
Why is My Value Different From My Colleagues or the AVM's?
While the market analysis uses objective data such as price per square foot and time adjustments, it relies on subjective feedback from you in the form of the comps you choose. Furthermore, the way in which GeoData Plus calculates its' adjustments may be different from other CMA tools which could be arbitrary adjustments or derive their numbers in different ways.
In Conclusion
GeoData Plus offers a variety of ways for our users to accurately determine the value of a property. For those who just want a value without any effort, there are multiple automated valuation models available in our property reports. But for those that know their market really well, the Market Analysis offers an easy, do-it-yourself approach that gives you an accurate data-driven valuation that can aid you in any part of the real estate transaction.
Are you not yet using GeoData Plus to benefit from our valuation tools and comprehensive property data? Try GeoData Plus today for 30 days with a money-back guarantee
Back to Resources