ATTOM DATA SOLUTIONS ACQUIRES GEODATA PLUS
We're excited to announce GeoData Plus is now part of ATTOM Data Solutions, the nation's premier property database, providing a one-stop data shop. Read the full Press Release. Learn more about ATTOM Data Solutions.
What Are Lis Pendens and Why Are They Important to Your Property Searches?
Posted on 06/06/2018

by GeoData Plus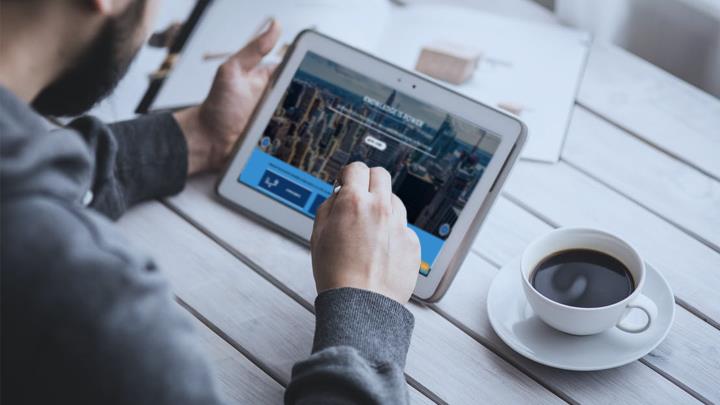 Whether you are new to real estate or a seasoned professional, you likely know that there's an opportunity to make money working with distressed properties. If you have the skills and/or nerve to take on these kinds of properties, you may be able to turn a profit in this sector as an investor, agent, appraiser, lender, or through some other angle.
With this in mind, GeoData Plus provides customers with complete property data on distressed properties in the form of a lis pendens search for real estate professionals. The term "lis pendens" is used frequently, sometimes without a full understanding, so first off, let's define the term.
What is a lis pendens?
The term is Latin in origin. Lis pendens is defined as a loose translation to "suit pending," or pending legal action. When it comes to real property, a lis pendens is often filed by a mortgage lender when a borrower is no longer making payments thus, starting the foreclosure process. For that reason, lis pendens are also referred to as pre-foreclosures.
Is this like a 30, 60, or 90-day lateness on a credit report?
No. While both deal with late payments, a lis pendens doesn't inherently tell you how late a borrower is. It just means the borrower is late on their payments. A 30/60/90 is a credit matter, whereas a lis pendens is a legal matter.
How long does a lender wait before filing a lis pendens?
It's up to the individual lender to file a lis pendens, but prior to filing, the lender sends the borrower a Notice of Default. There's no set number of months a borrower needs to be late before a lis pendens is filed.
Why is information about lis pendens so important?
Since a lis pendens is a matter of public record, it's the first notice to the world that this property may be facing foreclosure. Having this information is invaluable to a potential buyer since it may either discourage them from purchasing the property or use the information to negotiate a price below market value. Being privy to the legal status of a particular property provides a tremendous amount of leverage.
Where is the lis pendens notice filed?
Lis pendens real estate notices are generally filed in the county records office. That type of data isn't typically available online, so a real estate professional would need to visit the recording office to gain access to the information. In an effort to provide this information to our users, GeoData Plus has done the legwork for you by aggregating the lis pendens data and making it available, along with a full suite of other property information, on our property reports.
The following graphic illustrates the Top-20 Counties by volume of single family lis pendens filings for 2018.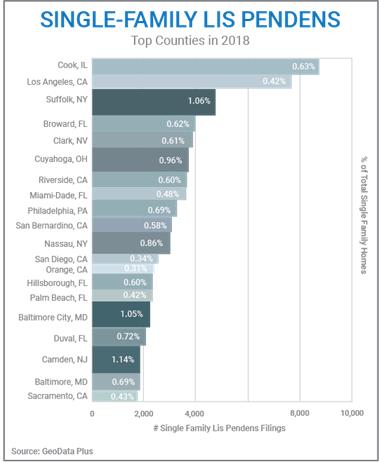 Unsurprisingly, the more populous counties are listed, but take note of the percentage of properties that have a lis pendens, notably Suffolk County New York, Baltimore City Maryland, and Camden New Jersey each with over 1% of all single family homes having a lis pendens on them. In GeoData Plus, you can search for lis pendens and view them on our maps.
How does GeoData Plus incorporate lis pendens?
One way is on a property report. When a user selects a property from their search results, the corresponding report will have a section called Foreclosure Activity. If there has been a lis pendens filed, you'll see the date, amount, plaintiff and defendant.

Another way to find these pre-foreclosure properties is to simply search for them. GeoData Plus has a Distressed Property Search function that allows you to narrow your search by date filed, neighborhood, amount and more.
How far back can I search for a lis pendens in GeoData Plus?
You can search as far back as you'd like. In this real estate climate where a property can take months, if not years, to foreclose, we didn't want to limit our data to just a year. Recently, a customer told me that they used another service prior to signing on with us and he was only able to search back one year. That was surprising to me, especially in this real estate climate where a property can take much longer than a single year to foreclose.
How do I take advantage of a lis pendens?
That depends on what you're trying to do. A real estate investor is going to want to try to get in touch with the owner in an effort to buy the property. A real estate agent will also try to contact the owner but in an effort to list the property or introduce them to a buyer. If the amount of the mortgage is more than what the property will sell for, you'll need to negotiate a short sale with the bank.
What's a short sale?
In summary, a short sale occurs when a property sells for less than the sum of the mortgage balances. You'll often need lender approval to complete a short sale.
How does a real estate appraiser benefit from seeing lis pendens?
A real estate appraiser may have a lender client who doesn't realize a property is facing foreclosure. When an appraiser looks up the property in GeoData plus, he or she will be able to share the lis pendens information with the lender, thereby saving the lender a great deal of time and money.
Regardless of your real estate profession, the distressed real estate market has been around for a number of years and continues to play a significant part in the real estate economy despite every prediction to the contrary. Whether you're actively pursuing these types of properties or not, this is information you really need to know. GeoData Plus makes this property data readily available for properties nationwide.
More from GeoData Plus:
What is a Foreclosure Auction & How Real Estate Practitioners Stand to Benefit
Investing in Foreclosure Properties: Understanding the Process
Back to Resources