ATTOM DATA SOLUTIONS ACQUIRES GEODATA PLUS
We're excited to announce GeoData Plus is now part of ATTOM Data Solutions, the nation's premier property database, providing a one-stop data shop. Read the full Press Release. Learn more about ATTOM Data Solutions.
Lis Pendens and Auction Data Available in All of NY State
Posted on 01/29/2019

by Erik Wind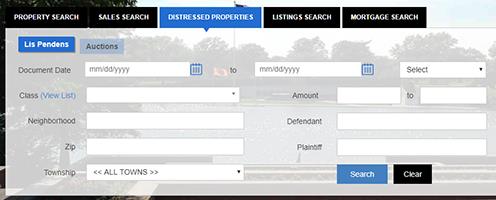 GeoData Plus has greatly expanded its New York foreclosure database. In the past we only provided lis pendens in New York City and Long Island, but we now offer lis pendens and auctions in just about every county in New York State. With access to one of our distressed property packages, you'll be able to search for NY lis pendens, and/or foreclosures by date, property type, location, plaintiff, and defendant.
If you bring up a property that is in foreclosure, you'll see all of the foreclosure details on the property report.
Need to learn more about NY auction data and lis pendens?
Here are some useful articles that can help:
What is a Foreclosure Auction & How Real Estate Practitioners Stand to Benefit?
In the above article, we go into more detail on our nationwide foreclosure database and how the foreclosure process works. Learn the difference between judicial and non-judicial states. Gain insightful information on how the foreclosure process begins with a pre-foreclosure, and leads to the auction. Read More About Foreclosure Auctions
What Are Lis Pendens and Why Are They Important to Your Property Searches?
Lis pendens play an important role in the foreclosure process. Learn important facts such as how a lis pendens differs from a credit lateness, as well as when and where one gets filed. Find out how we GeoData Plus incorporates lis pendens into our property data, and use that information to make better real estate decisions. Read More About Lis Pendens
Are Foreclosures Dead? And Other Highlights from the MLSLI Tech Fair
In this presentation at the MLSLI Tech Fair Erik Wind of GeoData Plus examines data ranging from Google search trends to regional statistics to answer the question, are foreclosures dead? Erik also describes how customers of GeoData Plus prospect for distressed properties. Watch the Presentation, Are Foreclosures Dead?
The State of the Short Sale Market with Phil Tesoriero
Looking for information on short sales? Check out this discussion with Erik Wind and Short Sale Specialist, Phil Tesoriero, as they discuss how to handle short sales and loan modifications in an ethical and profitable manner. Hear how you can use GeoData Plus to generate business for distressed real estate transactions. Watch the State of the Short Sale Market with Phil Tesoriero
Looking to Get Started?
Are you using GeoData Plus now and would like to add the distressed property package to your account? Give us a call at 516-663-0790.
Thinking about signing up for GeoData Plus? You can try it with a 30 day money-back guarantee by clicking on this link. Or, schedule a demonstration at your convenience to learn more about how GeoData Plus can grow your business.
Back to Resources