ATTOM DATA SOLUTIONS ACQUIRES GEODATA PLUS
We're excited to announce GeoData Plus is now part of ATTOM Data Solutions, the nation's premier property database, providing a one-stop data shop. Read the full Press Release. Learn more about ATTOM Data Solutions.
The Importance of an Accurate Square Footage Measurement
Posted on 08/23/2019

by GeoData Plus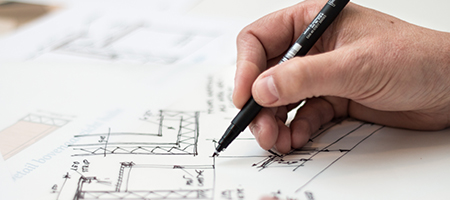 The square footage of real property is used to justify market value, assess expansion opportunities, and can affect desirability for most buyers. Therefore, it's important to get it right.
A licensed real estate agent must use care and diligence when reporting square footage in listings and other advertising. Square footage is considered a material fact, and a state's licensing board has the authority to take disciplinary action on an agent making any willful or negligent misrepresentation regarding square footage. So make sure it's accurate before you state it. Square footage information from a previous listing or appraisal report prepared for any earlier transaction should not be used without verification of its accuracy. You should measure the home yourself or have a professional measure it. And keep in mind that you need to be able to support how you arrived at the number by stating what guidelines or standards were used to calculate it.
What is Building Area vs. Living Area
In general, the Building Area is the sum of all areas on all floors measured from the outside face of the exterior walls. All enclosed spaces are included – no exclusions are made for attics, basements, mechanical shafts, interior walls, or other structural elements.
The terms Gross Living Area, Living Area, Heated Living Area, or Heated Square Footage all refer to the same thing – space that is intended for human occupancy.
While practices on how to measure and what to include in Living Area may vary, there are some generally recognized guidelines from the American National Standards Institute (ANSI).
According to ANSI definitions, Living Area is "an enclosed area in a house suitable for year-round use, embodying walls, floors, and ceilings that are similar to the rest of the house."
Why is knowing the square footage of the Living Area important?
Selecting sales comps: the best comps are the ones most like the subject in terms of size.

Establishing probable sale price: price per square foot of comparables is an important factor.

Determining home-buyer preferences: is the size adequate for their needs?

Appraising a property for a lender: it is important to have an accurate measure of square footage when performing a valuation for the purposes of a buyer trying to obtain a loan. Note that only a licensed appraiser can provide a true valuation of a property.
Sounds simple right? It can get complicated.
Some things to think about are how different guidelines or local rules might handle the following areas of a structure:
Attics and other above-grade areas

Basements and other below-grade areas

Garages that are attached or detached

Stairs and multi-level open spaces

Guest houses or other structures suitable for living but not accessible directly from the main house
Check with your state licensing agency to verify any local rules and use those alongside the ANSI guidelines (or other guidelines of your choosing).
Square Footage in New York City
Like any area, public record square footage data in New York City, while often reliable and accurate, are not always 100% so. In order to improve our customer's confidence in NYC square footage data, GeoData Plus provides two square footage values in New York City:
NYC Square Footage is the actual square footage value of a building, as reported by New York City. Calculated Square Footage is the product of the building dimensions of a building, multiplied by its height. Obviously, this isn't an exact number of its assuming every level of a building is the same, and of course it doesn't include attics, basements, or other variables. But by having both numbers available, our customers get a better idea as to how likely the NYC square footage of a property is accurate. For example, if there's a tremendous disparity between both square footage values, additional due diligence may be required.
Public Record Square Footage – Not Always So Public
While many assume that square footage is just one of those fields that is always available in public record through a local assessor, those doing business in areas such as Suffolk County as painfully aware that's not always the case. Townships such as Babylon, Brookhaven, and Islip may have the data available at the assessor's office, but aren't always able to make them easily available. GeoData Plus has made impressive progress in Suffolk County, gaining access to square footage and other Suffolk County property data that typically isn't available.
For more information on what is available in Suffolk County through GeoData Plus, see our article, From Near Zero to Data Hero – The Evolution of Property Data in Suffolk County.
Conclusion
In a recent Continuing Education course taught by Erik Wind, President of GeoData Plus, he commented: "In order for a real estate professional to perform sufficient due diligence on a property for the purpose of valuation, listing, buying, selling, etc., he or she must use all sources of data that are reasonably available."
GeoData Plus often provides both square footage and gross living area for virtually every property in the country – even those outside the MLS. Using this data along with other sources of square footage calculations can help you identify any significant discrepancies that could potentially raise red flags during your property valuation process.
GeoData Plus provides more than square footage data, we have other detailed property information, sales and mortgage history, foreclosures, and a comparables search tool to assist with establishing market value. Try GeoData Plus today to see more or schedule a demo at your convenience.
Related Articles from GeoData Plus
Finding Good Sales Comparables
Back to Resources