ATTOM DATA SOLUTIONS ACQUIRES GEODATA PLUS
We're excited to announce GeoData Plus is now part of ATTOM Data Solutions, the nation's premier property database, providing a one-stop data shop. Read the full Press Release. Learn more about ATTOM Data Solutions.
GeoData Plus Names Erik Wind President
Posted on 02/01/2013

by GeoData Plus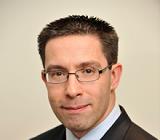 Erik Wind returns to GeoData Plus as president. Erik held a leadership role with the company during GeoData's formative years, when they released pre-foreclosures for Long Island and New York City, became the only company with one zoning map for all of Nassau County, and transformed GeoData from a desktop application into its present web application.
"GeoData made a great impact on the real estate industry before reaching a plateau in 2009," says Erik. "That's about to change as the next six months to a year should be really exciting for our customers." Erik Wind worked for GeoData Plus from 2002-2009 in various roles. In 2009, Erik began to pursue the development of other real estate applications, which led to Property Case Manager (used by property tax reduction professionals), and ShortSaleSpeedway™. He continued to consult for GeoData Plus during this time. In 2011, National Mortgage Professional Magazine included him in their "40 Most Influential Mortgage Professionals Under 40."
Back to Resources