ATTOM DATA SOLUTIONS ACQUIRES GEODATA PLUS
We're excited to announce GeoData Plus is now part of ATTOM Data Solutions, the nation's premier property database, providing a one-stop data shop. Read the full Press Release. Learn more about ATTOM Data Solutions.
FEMA Flood Maps Explained
Posted on 02/28/2019

by GeoData Plus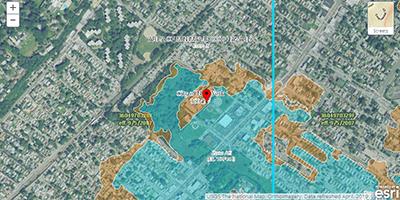 With GeoData Plus, we've always included access to FEMA flood zone, panel, and panel date information on our property reports. We recently added a direct link to FEMA flood maps on every property report. Use GeoData Plus to find important flood hazard information for any property across the nation.
Find and Identify Flood Zones
Search through FEMA's website to find a flood map, or simply click the FEMA Flood Map link on any property report from GeoData Plus.
You may need to use landmarks and other reference markers to find your particular property on FEMA's website. With GeoData Plus, link directly to a bird's eye view of your subject property on the flood zone map.
Check the index and legend below the map to understand what map symbols mean. Review zone designation letters to gauge flooding risk. These zones are often designated with letters, numbers, or a combination of both.
Identify the Flood Insurance Risk Zone. Flood zones are the main features of flood maps. Note: If any portion of a building is in a Special Flood Hazard Area (SFHA), all of the building is considered to be in a SFHA.
GeoData Plus added the FEMA flood map link to enhance the flood information previously available on our property reports. In addition to the flood map link, find information like flood zone type, panel, panel date, and navigate with a flood map layer.

Before the Storms Roll In
According to FEMA, maps are to be updated as flood hazards change over time. However, due to departmental oversight and inaccurate mapping processes, they are not. One example is areas impacted by Superstorm Sandy, which occurred in October 2012. However, many of those areas still have flood zones with a certification date prior to that event.
Also, flood insurance requirements are linked to flood hazard zones. Both real estate professionals and homeowners should stay in the know with flood zone information. Don't wait until it's too late.
Watch to learn more on how property values are affected by natural disasters.
FEMA Flood Maps and Flood Insurance
The government may require the purchase of flood insurance in high risk areas. This will occur when the property has a federally backed mortgage. According to multiple sources, insurance costs typically range from about $850 to $1100, annually. This estimated premium has also been expected to rise. While the additional cost of coverage may seem steep, there is an even larger price tag on flood damage to homes and businesses: According to FEMA, one inch of floodwater can cause about $27,000 in damage.
Also, even as these maps are mainly used to identify flood risk or flood hazard in a specific area, it is important to note that flood maps are also used to identify undeveloped coastal barriers, where flood insurance is NOT available.
Access Flood Zone Data with GeoData Plus
GeoData Plus continues its commitment to be an all-in-one provider of vital real estate information. We similarly recognize the high stakes for real estate professionals and sellers as the potential risks of severe water damage affect property values and desirability, as well as flood insurance requirements. GeoData Plus has all of the flood data needed for most appraisal reports including flood zone, panel, and panel date. Assess your risk.
Back to Resources