ATTOM DATA SOLUTIONS ACQUIRES GEODATA PLUS
We're excited to announce GeoData Plus is now part of ATTOM Data Solutions, the nation's premier property database, providing a one-stop data shop. Read the full Press Release. Learn more about ATTOM Data Solutions.
Automated Valuation Models Added to Property Reports
Posted on 10/21/2019

by GeoData Plus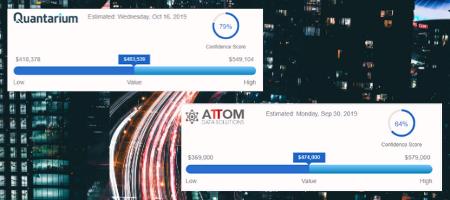 The past 2 years have been an extremely exciting time for GeoData Plus, but more importantly, very exciting for its customers. If you haven't followed us closely, we've made quite a number of changes. Early in 2018, GeoData Plus expanded its coverage from New York and New Jersey to all fifty states. More recently, we for sale and for rent listings, substantially augmenting our property data and valuation tools. Earlier this month, we made another enhancement to our data and valuation tools, by including automated valuation models in almost all of our property reports.
What is an Automated Valuation Model?
An Automated Valuation Model (AVM) is a term for a service that uses some form of mathematical modeling combined with data and transactions from sources such as public record and MLS, to calculate real estate values. The majority of AVM's use some form of the sales comparison approach to reach a value.
Is an AVM Accurate?
AVM's are one of many different forms of valuations used as an alternative to an appraisal and have been in existence for over two decades. While AVM's have improved over time, GeoData Plus has always felt strongly that no automated tool can yet come close in accuracy and reliability of a valuation performed by a qualified real estate professional who has in depth knowledge of their market.
How is GeoData Plus Incorporating AVM's?
GeoData Plus is currently displaying AVM's performed by both Quantarium and ATTOM Data Solutions. When a GeoData Plus property report loads, it will display the most recent AVM from either or both providers. Each AVM includes the following important information:
Valuation Date

Estimated Value

Estimated Value Range

Confidence Score

What is the Estimated Value Range and Confidence Score?
Estimated Value Range and Confidence Scores are metrics designed to tell us just how reliable and accurate the AVM is. A narrow Estimated Value Range tells us that the AVM had sufficient data to reasonably calculate a value. A broader range is often due to less available or inconsistent data.
An AVM's confidence score is based on a scale of 1 to 100. The higher the confidence score, the stronger the AVM's confidence in its Estimated Value Range and Estimated Value.
Do You Still Need to Search for Comparables or Should I Just Use the AVM's?
Please, don't ever stop searching for your own comparables. AVM's have gotten better over the years, but we can't stress enough that doing your own due diligence, and relying on your own market knowledge and expertise cannot easily be replaced by a machine. AVM's are a great way to get a quick estimate, or to help guide your own valuation. It should not replace your own comparable selection and valuation process.
Can an AVM Help You?
As a GeoData Plus customer, we'd love to hear how seeing automated valuation models in the property reports help you. Do you trust them? Do they help you perform better valuations? Please share your comments below.
If you're not yet using GeoData Plus, and want to see how AVM's and all of our other property data and valuation solutions can help you, then you can try it for 30 days with a money back guarantee.
Related Articles
GeoData Plus Now Offers Property Data Nationwide
Back to Resources