ATTOM DATA SOLUTIONS ACQUIRES GEODATA PLUS
We're excited to announce GeoData Plus is now part of ATTOM Data Solutions, the nation's premier property database, providing a one-stop data shop. Read the full Press Release. Learn more about ATTOM Data Solutions.
Assessing Flood Risks
Posted on 03/18/2019

by GeoData Plus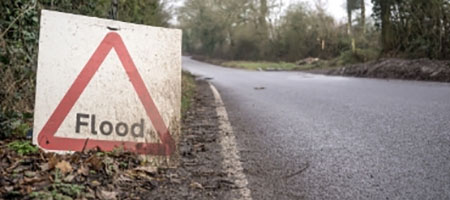 Coming across a property in a flood zone area for either yourself or a client can be stressful, especially as we hear more and more about the potential patterns of heavier rainfall and issues like erosion in densely populated areas. It's important that real estate practitioners closely review FEMA flood zone maps to assess property value and evaluate risks. Learn how to assess flood risks below.
What is FEMA?
The Federal Emergency Management Agency (FEMA) began in the 1970s, following the creation of the National Flood Insurance Program (NFIP) in 1968. The main purpose of FEMA was to create, store, and update flood hazard maps—otherwise known as Flood Insurance Rate Maps (FIRMs)—for the NFIP communities across the United States. FEMA became a part of the Department of Homeland Security in 2003.
What Are FEMA Flood Maps?
FEMA flood maps illustrate the extent of flood hazard in flood prone communities. The maps include information regarding major highways, waterways, Special Flood Hazard Areas (SFHAs), flood insurance risk zones, and areas subject to inundation by serious flooding from natural disasters like a 100- or 500-year flood. These maps are crafted with the help of engineering experts and flood insurance studies.
Terms to Know:
| | |
| --- | --- |
| 100 Year Flood | This type of flood is commonly dubbed a "100 Year Flood" or base flood. It is NOT a flood that occurs every 100 years. This type of flood has a 1 in 100 (or 1%) chance of occuring each year. As noted by FEMA, this type of flood is actually 26% more likely to occur within a 30-year period, which is about the length of a conventional mortgage. FEMA flood insurance is required in these zones. |
| 500 Year Flood | Similarly, a "500 Year Flood" has a 1 in 500 (or 0.2%) chance that a flood will strike a particular area in a given year. Both flood terms are based on probability of occurrence, not historical weather trends. FEMA flood insurance is optional in these zones. |
Click here to read our article, "FEMA Flood Maps Explained"
Limitations of FEMA Flood Zones
FEMA flood zone maps were created to assess flood hazard zones in congruence with major weather events and natural disasters. However, many real estate professionals and homeowners are aware of glaring inaccuracies of FEMA's flood zones. They may be surprised, but not disappointed to hear of the 2017 document released by the Department of Homeland Security that acknowledges the mismanagement of the flood mapping program and argues for prompt changes to FEMA flood mapping procedures.
Paired with anecdotal evidence from real estate practitioners and homeowners in areas recently affected by major storm systems and natural disasters, the irregularity of updates has become a worsening issue for private citizens and bureaucracies alike.
How Can GeoData Plus Help?
In the perfect world, flood maps would accurately represent flood hazards, and the available flood zone data would help minimize the socio-economic impacts of flooding. That is not the case.
Users of GeoData Plus are encouraged to assess flooding risks with the following tools: Use the flood map layer available on our property reports to see your subject property, surrounding waterways, and current flood zone codes.
Review the Flood Info panel. Find the flood zone, panel number, and panel date. Carefully assess the panel date. Take note of recent weather trends that might align or suggest inaccuracies with the FEMA flood map zones. Try FEMA's Letter of Map Changes (LOMC) to request official revisions to the flood map.
Note: We recently added a direct link to FEMA flood maps to our property reports as a way to help users of GeoData Plus further assess risks and learn of current insurance requirements.
Learn More with GeoData Plus
In addition to being an all in one provider of real estate property data, we are always excited to address topics that affect the real estate business. What are some topics that you'd like insight on? Comment below, and we'll see how we can help. Also, check out our integrated FEMA flood map link now available on property reports nationwide.
Back to Resources