ATTOM DATA SOLUTIONS ACQUIRES GEODATA PLUS
We're excited to announce GeoData Plus is now part of ATTOM Data Solutions, the nation's premier property database, providing a one-stop data shop. Read the full Press Release. Learn more about ATTOM Data Solutions.
1004MC Sales Statistics Added to GeoData Plus
Posted on 03/01/2009

by GeoData Plus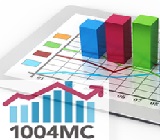 As of April 1, all 1-4 unit Fannie Mae appraisals will require completion of the 1004MC Addendum.
GeoData Plus is pleased to generate the sales statistics of the 1004MC at no additional charge to its subscribers.
Subscribers to DataMaster can auto-fill their 1004MC directly from GeoData Direct.
Back to Resources